Sister
Photos Of Christmas Gifts
(Made seperate posts for each person Im giving to, to prevent freezing up peoples comps)




For My Sister
Since she is quite obsessed with the distillers, I wanted to make her something that was related to the band...however she seemed to own almost every sort of merchandise they have sold...Then I realized she didn't have a jean jacket...My original plan was to create a more scratchy and patched up vest like my own, but my mother threw a fit...saying she didn't want my sister wearing something so hideos...uh-huh, yeah ok...anyways...
This is what I came up with and it passed my moms standards...
A simple plain jean jacket with their logo painted on the back...collar and cuffs lined with animal pattern fuzzy material...she could sew a few patches and put her band pins on it as well...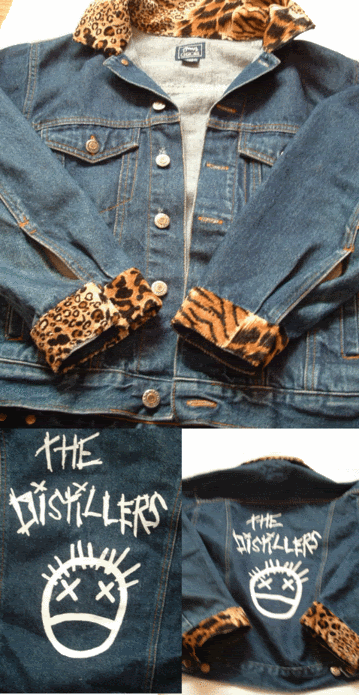 I also made an a bracelet with beaded lettering spelling out some lyrics from on of their songs...but I already gave it to her...(wasn't able to take a photo of it)

Then I decided to take some old cds that refuse to play...and covered them in a few magazine ads I ripped out and cut to place them in a mosiac theme...As well as placed a song tittle/or a random line of a song...



Closeup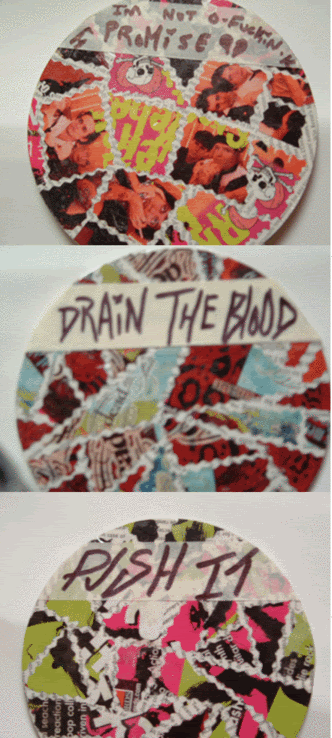 And I made some record bowls to give as well and plan to fill them with goodies...Once again all homemade...(will post photos when they're all done up)
-Belgium chocolate dipped pretzels
-Chocolate spoons covered in crushed candy cane
-Brownies
-Fudge
-Shortbread cookies
-Sugar cookies
-Jam tarty thingies (not sure what they're called)
And a few little pieces of candies and candy canes....